Following Geely's acquisition of DSI, Chinese companies once again sold to world-renowned parts suppliers, and this time the goal is considerable. According to Reuters, China National Chemical Corporation will purchase Italian tire company Pirelli for 7.1 billion euros, and this is one of the Italian manufacturing marks, and it is currently the world's fifth largest F1 exclusive tire sponsor. Tire companies will fall into the hands of China.
On March 22, Pirelli's shareholders signed a formal agreement with China National Chemical Industry Corporation. According to a statement, China National Chemicals Group purchased 26.2% of Pirelli shares held by Camfin at a price of 15 euros per share. Thereafter, China National Chemical Corporation will publicly acquire the remaining shares of Pirelli at the same price.
According to reports, Pirelli's China Chemical Group is a state-owned company and its current chairman (assignment, picture, inquiry) is Ren Jianxin. It is reported that after the completion of the acquisition, China National Chemical Industry Group will have access to high-end tire manufacturing technology. On the one hand, this will increase the Group's profits. On the other hand, this will also provide Pirelli with good conditions for the development of the Chinese market. More importantly, this marks the start of a shift in the thinking of Chinese companies expanding overseas and expanding themselves.
In recent years, many companies in the automotive industry in China have adopted overseas acquisitions and inventions as the key link to enhance their core competitiveness. SAIC's acquisition of South Korea's Ssangyong and Dongfeng's substantial increase in PSA shares are all intended to be obtained through direct acquisition of mature overseas car companies. More advanced core technology attempts. After the failure of the "market-for-tech" route, Chinese companies did not give up and chose to use M&A to achieve a "curve-overtaking" route. They intended to overcome their technical problems through overseas mergers and acquisitions and overseas cooperation.
Initially, these Chinese giants focused on the direct acquisition of car companies. Although there were successful cases such as Geely's successful acquisition of Volvo through a complete acquisition of Volvo, most of the other merger and acquisition cases had little effect. In particular, a large number of central enterprises, holding large sums of money for the people, spending their money overseas, making big acquisitions, and finally did not fish out, have become a "recruitment man" to pay for debts. Moreover, over the past few years, the self-owned brand has improved its matching capability with the entire vehicle. The replacement of the key components with the entire vehicle has become a new difficulty for Chinese companies. They realized that their true neck screen is not only the matching ability of the vehicle, but also the manufacturing capability of the core components. Then he changed his target and he turned his attention to the giants. However, in my opinion, such a strategy may not be promising.
Chinese auto companies' overseas mergers and acquisitions often lack a clear strategic plan. Most respondents believe that Chinese auto companies' overseas mergers and acquisitions are due to mergers and acquisitions opportunities in the industry consolidation. In this environment, most overseas mergers and acquisitions of Chinese auto companies are passive behaviors rather than considerations of corporate strategic development. Many auto companies' overseas mergers and acquisitions are not clear in purpose and eventually become the result of mergers and acquisitions.
In addition, Chinese auto companies have focused too much on the success of mergers and acquisitions, and little consideration has been given to strategic integration after mergers and acquisitions. In recent years, although more and more Chinese auto companies are aware of some of the risks, they will conduct detailed financial due diligence studies on the acquired companies before overseas acquisitions. However, the importance of due diligence in business and operations is still lacking in understanding and neglecting From the local government, policies and regulations, labor organizations, suppliers, customer structure, culture, and other potential risks to fully understand and evaluate.
In addition, the integration after overseas mergers and acquisitions is the most unfamiliar and most distressing problem for Chinese companies. Differences in management concepts and methods between Chinese and foreign parties, differences in the culture and values ​​of both parties, and the prevailing resistance sentiment among acquired companies all play a decisive role in the success of overseas M&A integration.
In general, the ability of Chinese companies to operate their own capabilities and resources to digest and integrate is still lacking. Compared with continuous mergers and acquisitions, it is more important to increase their own R&D capabilities. Only with its own strength can we better dialogue with international giants, and we can truly grasp the initiative in mergers and acquisitions such as this, so as to obtain key patents.
We have a complete plastic consumables production line. Mold-making, injection molding and sterilization, all the procedures are done efficiently in our own factory. Precision molds, high quality raw material and advanced equipment to produce and perform quality testing with strict and comprehensive rules to ensure our products meet the highest quality and performance standards expected by the hospitals, research institutions and industrial, clinical laboratories that we supply.
• Excellent mold-making ability.
Our R&D team, with over 30 years` experiences, work with high quality mold-making equipment imported from Germany and professional mold analysis software that allow NEST to develop more precise molds.
• Injection molding in Class 10,000 and Class 100,000 clean rooms, with strict quality control.
10,764 ft2 Class 10,000 clean room and 32292 ft2 Class 100,000 clean room, all-electric high-speed injection molding machines imported from Japan, raw material which meet USP Class VI requirements. Production and quality control are performed strictly in accordance with corresponding SOP.
• Sterilization by electronic beam irradiation.
The Rhodotron TT200 electron accelerator which imported from the IBA company, Belgium. A world leader in the E-Beam sterilization industry. Sterilization process has been certified by the ISO 11137 quality system. Compared with sterilization by cobalt 60 or ethylene oxide sterilization, sterilization by electronic beam irradiation is more efficient and safer. It requires less time and will not produce any chemical residue.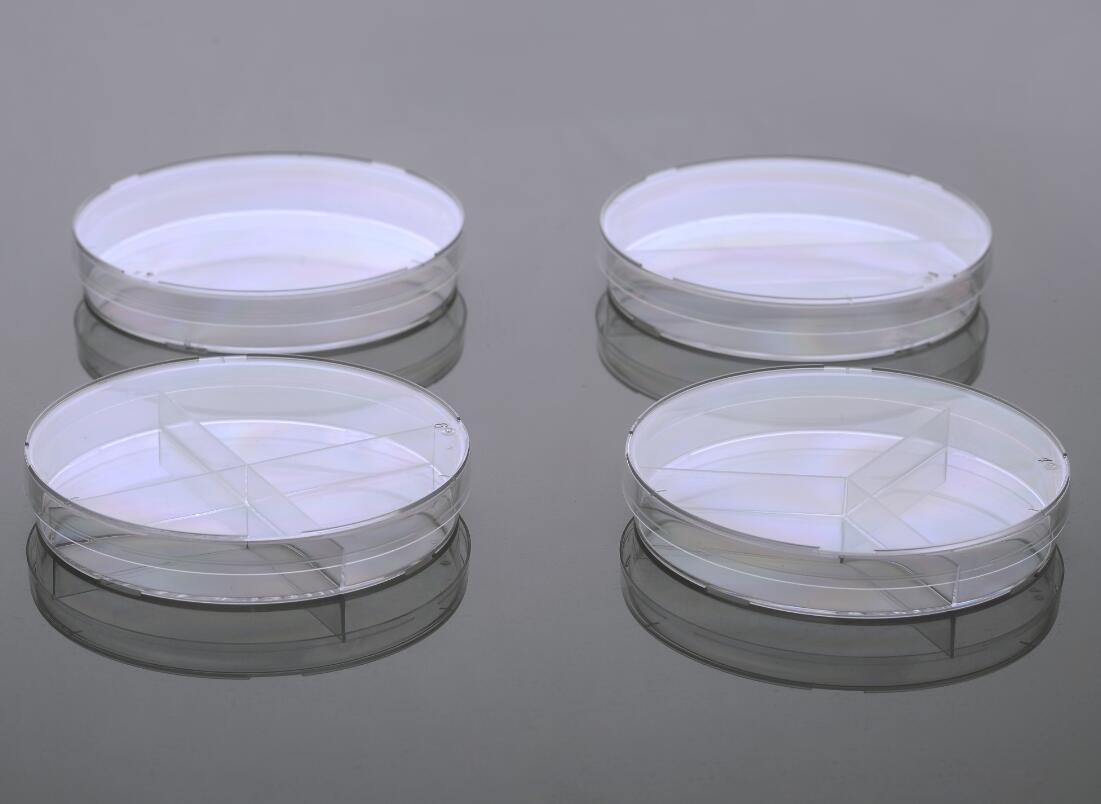 These non-treated polystyrene plates are transparent and DNase/RNase-Free. The bottom has a ridge allowing for easy handling and stacking. The plate has three vents for gas exchange.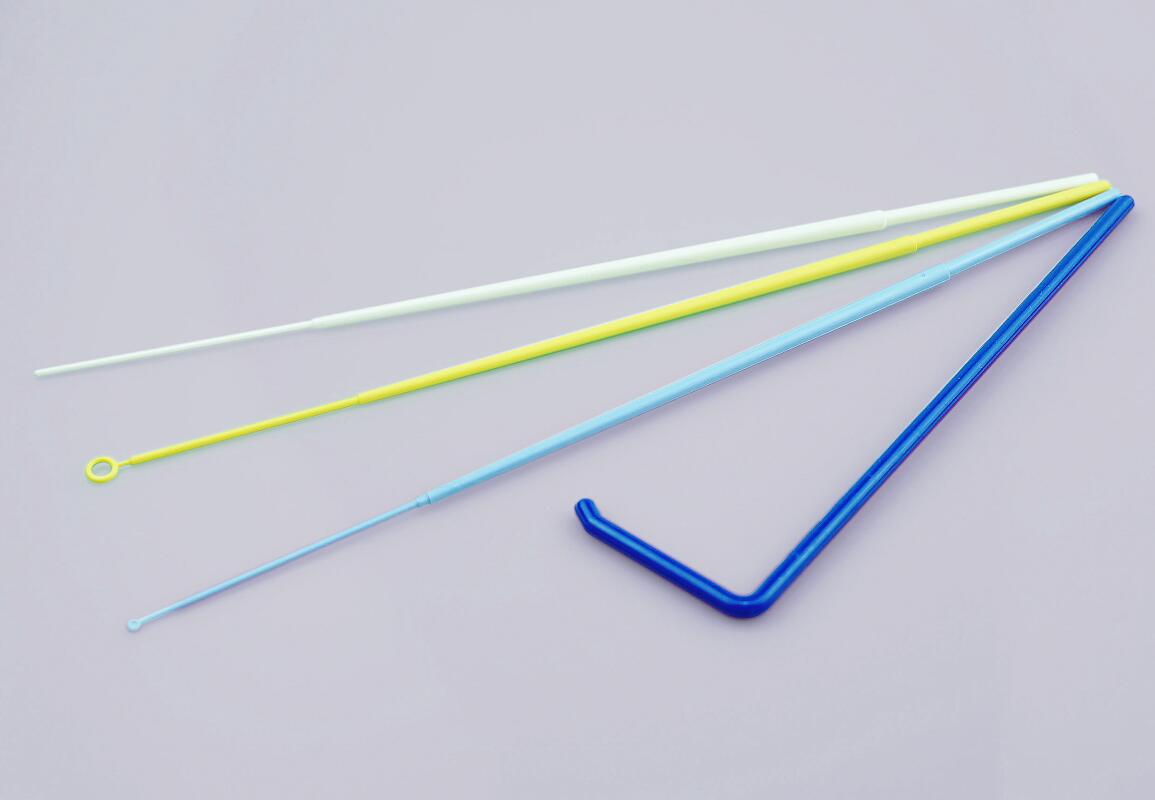 L-Spreader
Using a grinding tool with high precision in combination with an ergonomic design, the efficient sterile L-Spreader specialized for Asian scientific researchers is developed and manufactured to effectively solve problems such as contamination or uneven application of spread plate in bio-labs, which helps to make domestic biological testing practitioners more efficient and simplify their tedious work during biological experiments.
Plastic Petri Dish,Laboratory Dish,Sterile Petri Dishes,Disposable Petri Dish
Wuxi NEST Biotechnology Co.,Ltd , https://www.nest-biotech.com