Since 1975, Cummings has entered China for 40 years. From the initial pure product sales to the full bloom of the joint venture, Cummins has gone through a glorious course. Cumulative accumulation has been the driving force for many years, and Cummins's development in China is showing an "accelerating" trend. Cumins's vice president and general manager Wang Ning of Dongfeng Cummins Engine Company believes that all this must be attributed to two words—innovation.
In 1986, Cummins and Dongfeng Group formed a strategic cooperative relationship and introduced B-Series engines to China with a license. In 1996, the two parties further upgraded their cooperation and jointly established Dongfeng Cummins Engine Company. Dongfeng Cummins is an important banner of Cummins' engine business in China. Many Cummins accreditations in the market are based on the previous understanding of Dongfeng Cummins. Now Dongfeng Cummins has become the most comprehensive company in China for the Cummins engine series. With its mature, stable and reliable style, Dongfeng Cummins has won the respect of the market and the recognition of customers.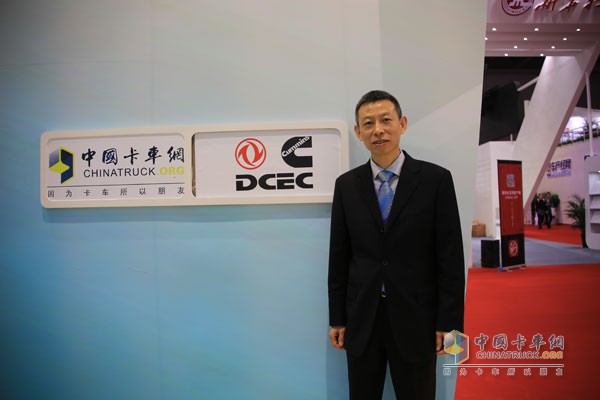 Vice President of Cummins Inc., General Manager of Dongfeng Cummins Engine Co., Ltd.
Recently, China Truck Network reporter conducted an exclusive interview with Wang Ning, listening to explain Cummins's innovation and development strategy in China, and how Dongfeng Cummins practices and undertakes his social responsibility.
Innovation, cultural genes from partners
Since its establishment, Dongfeng Cummins has been a leader in the rapid development of the Chinese engine industry. In Wang Ning's view, the development of Dongfeng Cummins benefited from China's reform and opening up and the development of the economic environment. Another very important reason is the forward-looking long-term strategic partnership between Dongfeng Group and Cummins.
After Cummins entered China, he soon began to cooperate with Dongfeng. Dongfeng is one of China's best full-range automobile manufacturers, especially its commercial vehicles are completely independent brands. What Cummins pursues in the world is to grow together with its partners and achieve mutual success. Through complementary win-win situations, it will open up markets and achieve their own commercial value. Dongfeng Cummins is one of the two companies supported by these powerful group companies and has become one of Cummins' most successful business model explorations.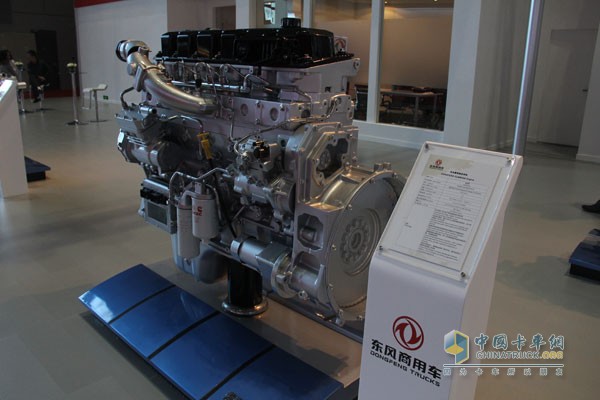 Dongfeng Cummins 13L Engine on display at the 16th Shanghai International Auto Show
Both companies advocate innovation and innovation. Wang Ning said that in Dongfeng Group, from the perspective of commercial vehicles, it owns an independent brand and constantly innovates and upgrades at the technical level, leading the development trend of commercial vehicles in China. Prior to the Shanghai Auto Show, Dongfeng Cummins engines were installed on the Dongfeng Commercial Vehicles and Dongfeng Liuzhou Automobiles. In the past 30 years, product updates have been iterated, the results have emerged in an endless stream, brands have become more mature, and trust has grown. This is a model of cooperation between Dongfeng Motor and Cummins. As far as Cummins is concerned, innovation follows every step of Cummins' development from birth to growth. The founder of Cummins – Klesi Cummins himself is also the first person in the industry to first innovate diesel engine technology in the United States. Cummins is now the world's largest independent engine manufacturer, and it is also an engine manufacturer that completely owns a complete set of technologies from key components to system integration. The development of Cummins is a process of continuous innovation.
"Cummings positioning itself is that without innovation, there will be no future," said Wang Ning. Cummins' innovation is not only reflected in the engine itself, but also in turbocharger systems, filtration systems, exhaust systems, fuel systems, and aftertreatment systems, all of which are constantly innovating. Now, in order to cope with the development of the entire Chinese market, all Cummins business units in China have already achieved a local resource structure with R&D capabilities and local production and service systems.
It is precisely because of the innovative cultural genes of Cummins and Dongfeng Group's two partners that the spirit of innovation has also been integrated into the 'blood' of the development of the Dongfeng Cummins joint venture.
Innovation, the highest standard based on customer value
With innovative genes, where is the direction of innovation? Wang Ning's answer is the customer. He said, "We understand that the value of our products is achieved through the use of complete vehicle products. We can't just care about our products and go it alone, but we can put ourselves in the role of a supporting manufacturer and really listen to the whole vehicle. The voice of the plant, to understand what they need, and how to fit the maximum value of the vehicle product as a starting point, with the strategy and research and development technology of the entire vehicle factory, so that we can maximize the value of our products."
In Wang Ning's view, as an accessory product supplier, it should do its utmost to help vehicle companies improve the competitiveness and product value of their products. In addition, in addition to serving the entire vehicle manufacturer, Dongfeng Cummins will "go one step further" and go deeper into the end-users to understand the real needs of end-users for the engine. "Because the auto manufacturer will eventually provide services to end users. The more we know about end users, the better we will be able to cope with the work of the entire vehicle manufacturer." Wang Ning said.
Reliable and economical value perception can be achieved through a solid technical work. In recent years, Dongfeng Cummins has taken the customer's products as the highest standard, and has put the direction of innovation into the aspects of comprehensive economics, electronic control technology, emission standards, and matching degree with the vehicle. Wang Ning specifically explained as follows:
The first is innovation in the pursuit of integrated economics of products (also called "liquid" economy). Because now that the emission standard has reached the fourth level, the engine will not only consume fuel but also consume urea, and it will not be economical to achieve only one of them. What Dongfeng Cummins pursues is to add up the two together to achieve an optimal state and help users save, thereby realizing customer value.
Second, innovation in electronic control technology. We are pursuing more intelligent control of the engine, and even considering how to better connect the electronic control technology with the Internet technology. In China, Cummins and Tianyuan Technology have jointly developed Telematics. It is through this remote control technology platform that the aforementioned economical, electronic control technology and the Internet are connected to help users improve the efficiency of their operations and management. Create more value for customers.
Third, innovation in parts and aftermarket services. The 100,000-kilometer oil change mileage, which is the technical result that no older generation of truckers thought about, is now the first to achieve a 100,000-km exchange on the Cummins ISG engine through the integration of Cummins Filtration technology and a series of engine technologies. Oil mileage guarantee. This is the combined result of Cummins's comprehensive technology and system integration capabilities, and the filtration technology plays a very important role in it. The close integration of filtration technology, nanotechnology and materials science is an important manifestation of our innovation.
Fourth, the pursuit of a higher degree of match with the vehicle product. Dongfeng Cummins realized that it is not only necessary to make the engine product itself good, but also to help the vehicle manufacturer improve the match with the vehicle. Raising the degree of match with the entire vehicle is a manifestation of innovative technologies, such as how to make the power system better, how to optimize the cooling system, etc. The solution to these problems requires the development and investment of technology. Integrated innovation brings more value to customers.
Innovation from Cummins Global System Support
No one can say innovation rhetoric, but the banner of innovation is not everyone can pick up. Dongfeng Cummins dares to say that it has also achieved this. One of the important reasons is to have the resource support of the parent companies of Dongfeng and Cummins.
For Cummins's support, Wang Ning summed up a total of three levels: technical support, management technology, benchmarking. The technical level of support is obvious, and the technical innovations discussed here all have Cummins's shadow. Cummins's key engine parts systems in China even support Chinese-made engine manufacturing on an equal basis. The Wuhan R&D center, a joint venture between Dongfeng Cummins and Cummins, has now become the basic support for innovation in China and even the entire East Asian market.
Wang Ning focused on the role of management technology and benchmarking. He said: "The management technology mentioned here is not simply a concept of corporate management, but stems from the accumulation of historical development of Cummins. Cummins started as a diesel engine company and still sticks to this field. Therefore, whether it is in the production of products, customer service, or localized R&D, etc., it has the unique management experience of professional diesel engine companies accumulated over a long period of time. This has given Dongkang strong support."
"In addition, the markets in China, including commercial vehicles and construction machinery, are increasingly maturing. In the days to come, China's market will also develop to the level of the current European and American markets. Although there will be its own characteristics, there will be certain Differences, however, have always reached a considerable level. Cummins' history in the layout and development of the global market provided Dongfeng Cummins with benchmarks and templates for learning, avoiding unnecessary duplication and missteps in the course of future development."
Despite relying on a wealth of technology platforms and global experience, innovation is not a simple "take-up". As early as in previous years, Cummins has put forward a concept - "New Technology for the Market" (FFM). Its core idea is It does not follow the path taken in Europe and the United States. Relying on Cummins's platform, Dongfeng Cummins has advanced technologies and practices, but after China is introduced, Dongfeng Cummins will reinnovate according to the continuous improvement of the local environment and technology to make it more adaptable to the local market. For example, Dongfeng Cummins' China IV product is more detailed in the technical route according to the application environment, instead of copying the European IV product technology in Europe.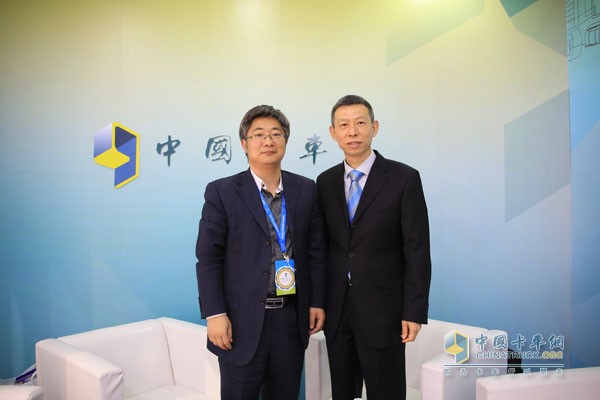 Vice President of Cummins Inc., Wang Ning (right), General Manager of Dongfeng Cummins Engine Company, and Wu Yongqiang, Editor-in-Chief of China Trucking Network
Based on Innovation, Prop up Corporate Citizenship
With innovative "genes", innovative attitudes, and more innovative support, Dongfeng Cummins took no responsibility for the social responsibility when it made innovation the ultimate. Dongfeng Cummins has adapted to this new economic norm. "The current environment requires every company to strengthen innovation, to make efforts to reduce emissions, and to contribute to environmental protection, which is beneficial to the long-term development of the entire engine industry." Wang Ning said.
Cummins' corporate mission is to "build a better life with Cummins power". This "better life" is not only a matter of material satisfaction, but also a beautiful and healthy living environment. Wang Ning said that this naturally becomes the corporate mission of Dongfeng Cummins. Therefore, Cummins does not regard environmental protection as the result of the government's mandatory promotion, but rather the company's full responsibility.
"In addition, one of Cummins's values ​​is to take an active part in corporate responsibility. With the awakening of environmental awareness, we will work together with all responsible industry partners to practice environmental responsibility," said Wang Ning.
The launch of new-type high pressure diesel portable screw air compressors with large displacement and high wind pressure, accurately and perfectly exert the best critical point of the impactors, therefore, customers are no longer worried about unstable flow and insufficient pressure in use. They are even able to support two sets of semi-hydraulic Drilling Rigs for stable use to meet the constant pursuit for efficiency in the market. Equipment operation status can be fully monitored, control panel in English and Chinese, the equipment running status most obvious. Non-normal automatic shutdown function is matched to ensure people and machines secure.
High Pressure Diesel Portable Air Compressor
High Pressure Diesel Portable Air Compressor,Portable High Pressure Screw Compressor
Quzhou Able Machinery Equipment CO., LTD. , http://www.ablejx.com